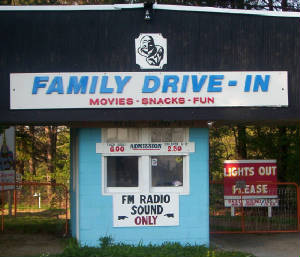 Member of U.D.I.T.O.A.
United Drive-In Theatre Owners Association
Member Pennsylvania & National
Association of Theatre Owners
GRAND RE-OPENING IS FRIDAY APRIL 25th, 2014...
SEE YOU SOON!
WELL-BEHAVED PETS ARE WELCOME BUT PLEASE BE CONSIDERATE AND CLEAN UP AFTER YOUR ANIMAL
CHECK OUT OUR UP-GRADE TO DIGITAL PROJECTION
-YOU'LL NOTICE THE BRIGHTER PICTURE AND CLEARER SOUND-
BECOME A FACEBOOK FAN!!
FIND US AT
FAMILY DRIVE IN THEATRE
or
KANE FAMILY DRIVE-IN
FAMILY DRIVE IN THEATRE--ESTABLISHED 1952
CELEBRATING OUR 62nd YEAR OF PROVIDING GREAT FAMILY ENTERTAINMENT
Family Drive In, 6627 Rt. 6 E., Kane, PA 16735